*Edited for quality purposes.*
Black boys are taught, via media, that in order to achieve the American Dream, black men must go professional in some sport or become a successful rapper. Kendrick Lamar, a black male rapper, has become the prototype for the "Black American Dream." Kendrick Lamar knows this and raps about what it is like to be so in his songs. He also writes about white supremacy in this songs. He won a Pulitzer Peace Prize for his ability to do so.The lyrics Kendrick Lamar writes, along with the sound he creates, can be viewed as a rendition of what black activist and theorist have said about our society. It's all black angst, black excellence, black power, black anger, black love and black life. This is why I think that it ironic that people are outraged that Kendrick would call out a white girl for saying nigga on his stage, at his concert. It is ironic that someone would give him donkey of the day for setting a white girl up for being racist. And it is hilarious that someone would say that it's not fair for Kendrick Lamar to do that.
She was a "drunk white girl." Of course she would say the N word! And I'm just looking in disgust at the people who I would imagine would say some shit like that.
Kendrick Lamar is a relatively conscious black man whose art, thanks to capitalism, helps to challenge white supremacist narratives about the black experience. Kendrick Lamar's success shows a demand by white people to consume black sadness or black angst. We can look at the white demand for black slavery movies to see that this is true. Even though all this grates my nerves, I do understand why people are being so abhorrent. White people defending other white people's ability to use the N word at a concert put on by a relatively conscious black man is the definition the intersection between White Supremacy and Capitalism.
White people will buy his albums, go to his concerts, memorize his lyrics, sing his lyrics, and converse about the black experience not because they support the ideas his music speaks to, but because they like the feelings his art evokes. They like to momentarily live in the world that he creates just like I like being opened up to a new world, a new way of thinking by reading romance novels or fantasy novels. (I know #NotAllWhitePeople do this. Just saying that this explains why people find it ironic that a relatively conscious black man would call out racism at his concert.)
The whole situation is why Huey Newton, Co-Founder of the Black Panther's said, "We have two evils to fight, capitalism and racism. We must destroy both racism and capitalism." We can't fight one and benefit from the other because both talk of racism and talk of anti-racism is profitable for the promotion of capitalism. We can't fight racism by benefiting from a capitalistic structure because what we will get is more Kendrick Lamar situations; both black and white people looking at us crazy when we call out racism. Try it and you will hear something similar to:
I like your work about the black experience. It's good torture porn.
It's not fair that you call me out for doing the things that, in your work, you say you hate. It's not fair because I bought your work. You eat because of me. You, your family and friends are taken care of because of me.
You can't expect them to not say the n word. It's in your songs.
*I do not know if people explicitly or consciously think or say these things.*
Side note: Many may find Huey Newton's quote to be surprising. History has santitisezed his words. They left out the part where he argued against Black Capitalism. They didn't tell us about his letters that sound like the Communist Manifesto The Remix. They was too busy slandering his name; slandering the Black Panther's- tryna make them look crazy so that they could use their "dangerousness" as a way to convince people that justice was putting them in prison, killing their beautiful black bodies, and depriving them of existence. I ain't saying Huey was perfect. I'm just saying that's the message I get.
Look- I was listening to one of my favorite spoken word artist, Asia Bryant-Wilkerson and it reminded me of what is going on with the Kendrick Lamar situation. This is what she says:
Instructions on how to Write a sad nigga poem:
One, make it a list with numbers or letters just not bullet points. There are already enough bullet points in all the bodies you will name.
Two, make your poem into a ouija board. White folks like to disturb the dead. Say her name. Let it electro slide off your tongue and on their scoreboards. You know Sandra, Lakia will at least get you a 9?
C. Keep them on their toes and by them I mean the white folks, the only people who come to a poetry slam to see a sad nigga, hear a poem shaped like a casket.
You gotta scream.
Be Loud.
Take up Space.
Okay by now they've tuned out the loud black girl to tell you how to write this poem.
The answer is don't.
They will devour you the white white folks devour your words.
It taste like kool-aid with no sugar because white folks can't digest a happy nigga.
And ain't nothing savory about a poem or a body that ain't seething with you tears or your salty blood.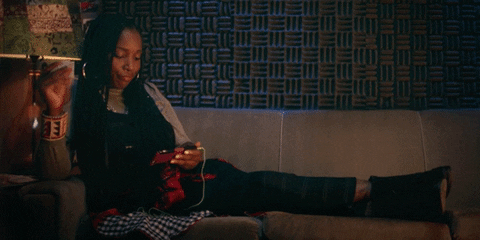 Kendrick Lamar gives white people all that shit. One might even say that his Pulitzer Prize that he just won shows that he has perfected his craft, the craft of writing sad nigga poems. White people love for black people to entertain them. This tradition can be traced black to slavery. Kendrick Lamar is just another nigga that they use for their amusement. They can know all of his lyrics about stopping the violence while simultaneously not give a fuck about black people- or at least not care about them enough to take the N word out of their vocabulary. They can shamelessly fetishize his body and his art that critiques the white supremacy in one breath and then rebuke him for shaming them when they perpetuate that same system by using slur terms.